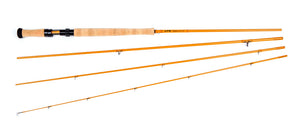 Our Explosive range is just that. As the name suggests, this rod is built to respond to even the slightest movement and produces a great catapult effect with high line speed to achieve a great casting action rod.
This rod responds well with our line series from 9m to 13.5m in length, depending on the casters personal preferences and casting conditions. It is difficult to procude a rod series that responds so well with such different line lengths. But, we at LTS believe we have achieved that by designing a rod that allows you to change stroke length, line speed and distribution of mass with even the slightest of movement.
The Explosive is a light rod that is easy to cast and comfortable to use during practical casting situations. We remain humble at LTS and are proud of the feedback we have received regarding this great series of rods and feel certain that we have managed to continue to build on the quality of our rods.