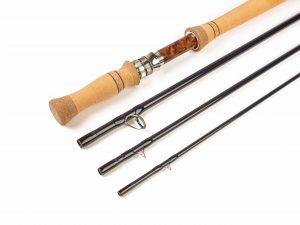 The next step in the evolution of fly rod technology is the Platinum G2 Series fly rods. Constructed using Graphene*, and the most advanced carbon composite engineering available. The result is stronger hoop strength with smoother energy transfer. What that means for fisherman is a fly rod series that is just as efficient as it is effortless to cast.  
Although technology determines potential physical attributes like strength, and weight, the secret sauce is in the taper design, derived from years of water time testing and refining the feel of Beulah fly rods.
The Beulah Platinum G2 Series rods are constructed using state of the art Graphene material, AAAA Cork grips with burl inlays, wood burl insert on reel seats, solid titanium stripper guides, and industries finest Snake brand* guides.