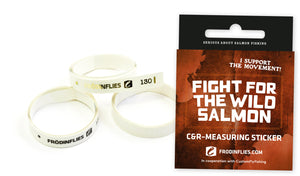 Today it's important that we don't take out wild fish from our rivers. On most rivers stocks are so small and threatened that we cannot allow our self to do it. We used to judge our catch in kilos or pounds, today the length is what tells us the size. Our C&R measuring sticker is an easy way to do it. No hazel with finding the measuring tape – this one is always on your rod. Just slide the rod alongside with the fish and its done. Easy and good for both the wild fish and yourself. You got the length - the fish will be on the spawning grounds.

They come in two colors Black or white. Each pack consist of 3 stickers in the chosen colour. They are easy to put on, just follow the instructions on the pack and you are ready for the catch.
Follow the movement – Fight for the Wild Salmon!