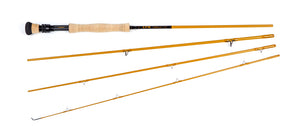 As the name suggests, look out for great high line speeds and catapult style action this rod provides. As the name suggests, this rod is designed to respond to even the slightest movement. Because of its action, small movements can produce high line speeds.
New for 2017 is the introduction of the 10ft #5/6 weight in this range. This gives our customers great options for lighter line rating rods but with no compromise on the famous Explosive action. These rods are characterised by how light they are to cast with, but only require small movement to speed up the line delivery. This makes the rods comfortable for the fisher to use on long days.
We took considerable time in producing this series and guarantee that that has not been an easy process. However, we are sure you will be pleased with the results.